Jeremy Pozderac, Owner
Jeremy is the owner of River's Edge Tactical. He opened the store in December of 2012 and has been running it since. In 2017 he started building the indoor range that was completed in the summer of 2018. Jeremy has been a life long shooter and avid gun supporter from a young age. He was in the Marine Corps from 2002-2006 as a 1435 HE Operator Engineer where he was trained on several weapons including the M16A2 service rifle, M240G machine gun, and Mk19 grenade launcher. Jeremy became an NRA certified instructor in 2011 and an NRA Training Councilor in 2018 and has taught hundreds of people to use firearms safely and improve their abilities as well as CCW classes. Jeremy has competed in long range matches, 3 Gun, IDPA, and steel challenge.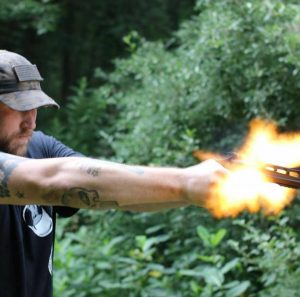 Tony Pimm, Manager
Tony is the sales manager of River's Edge Tactical. He is responsible for a clean, helpful, respectful, and informative experience while you shop with us. He has been working at the store since it opened helping fill in when needed. With the range being opened Tony will be working full time running the sales section and range. Tony was in the Navy from 1977-1981 as a gunners mate and the Army National Guard from 1982-1997 as an Air Defense Team Chief and then commissioned as an as an Armor Officer in 1987 getting out as a Captain. He also worked for the CIA security from 1991-2004. Tony has been an NRA instructor since 2015 and has taught several classes. Tony has been shooting for his entire life and has competed in IPSC, Small bore, NRA Light Rifle, and PPC.
Andrew Lake, Gunsmith
Andrew is the Gunsmith at River's Edge Tactical. He will be repairing, cleaning, building, modifying, cerakoting, machining, and all other manner of working on firearms. Andrew worked for a renowned rifle maker for a few years and has been running his own gunsmithing and cerakoting business from home since 2016. Andrew joined the Army National Guard in 2015 as an 11B infantry soldier and has been trained on several weapons including M4A1, M2 .50 caliber macine gun, and M249 SAW.